SIG-Sauer P226 SL Sport II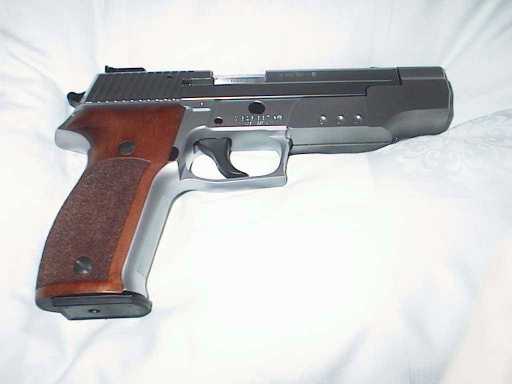 Okay, so it's a handgun and yes we can't legally own them anymore in Britain, but I was on holiday and it was too good an opportunity to miss for taking some pictures.  Oh, and shooting a very nice gun too!
The gun I'm covering this time is the SIG-Sauer P226 SL Sport II, a gun very few people seem to be familiar with, as the main market for it really is Germany.  SIG Arms in the US sold Sport versions of the P220 and P229 a bit more widely that have similar features, but the P226 version is a bit different.
Before I go any further let's clear up the nomenclature.  The basic SIG-Sauer P226 is probably well known enough to most readers of this article, it is essentially a double-action 9mm pistol with a 15-shot magazine.  This pistol has been around since the US military trials of 1983, and although it didn't become the US sidearm it has achieved substantial sales (over half a million to date), and is generally regarded as a quality sidearm.
Around 1995 SIG-Sauer decided to start a line of "sport" models based on the P220-series pistols.  The first model was the P226 Sport, which differed from the standard P226 in having chrome-plated steel parts, wood target grips, an LPA rear sight and a trigger job.  When the SIG Arms plant in the US started turning out stainless steel slides, the line of guns was revised, and now we have the P220 Sport, the P229 Sport, and the P226 Sport II and the gun featured here, the P226 SL Sport II.  The P226 Sport II has a stainless steel slide and a thicker barrel than the original P226 Sport, but the other Sport models also have stainless steel frames and a variety of doodads bolted onto them.
Both the P220 Sport and P229 Sport come with compensators, although the P229 Sport can be fitted with an optional barrel weight.  The P226 SL Sport II is different though, the attachment is merely a barrel weight.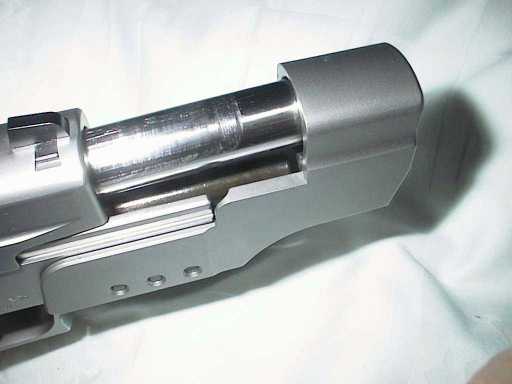 I actually found it made the gun too muzzle heavy, and I took it off for testing purposes.  This is easy using the supplied Allen key and removing the attachment screws.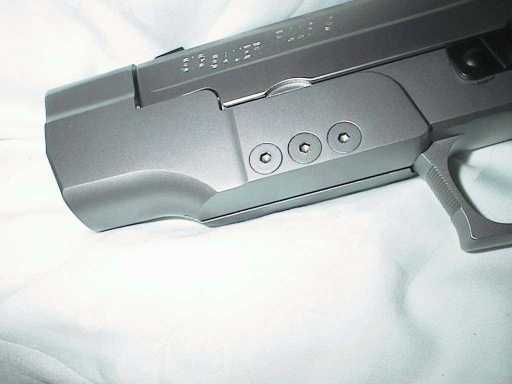 This gun appears to have been designed as a "club" gun, i.e. a gun that can be used for a variety of disciplines shot at the typical pistol club, rather than being intended for one specific discipline like ISSF or IPSC.  Further, it appears to have been designed to cater for the disciplines shot specifically at German pistol clubs.
Consequently, what you have is a very nice gun but it's not the equal of a top end precision Pardini or a top end Strayer-Voigt IPSC gun.  Having said that it is still a very nice gun in it's own right and I was impressed with it (and I'm not easily impressed).
Out of the box, the gun is covered in various types of goo, mainly to prevent friction around the barrel and the barrel weight.  As I decided not to use the barrel weight I happily wiped all the lubricant off.  The gun has extended controls and also an LPA rear sight.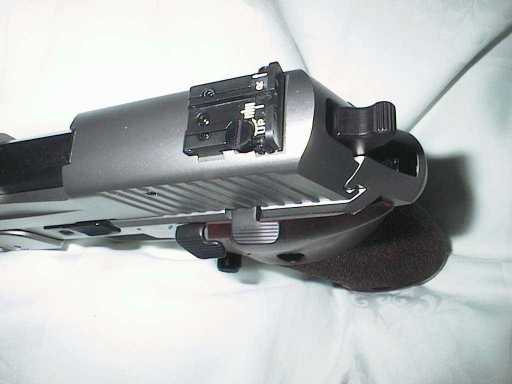 I wasn't sure I would like the controls to begin with but I found the extended magazine release to be a definite advantage.  The extended slide release was also useful, but I found that occasionally it would bite into the top of my thumb during recoil.  LPA also seems to have sorted out the rear sight on this gun, as the older P226 Sport didn't have a deep enough rear sight notch in my opinion.  This has now been rectified.  Some might not like the three-dot sight setup but then you can always use sight blackener.
Another thing I wasn't too keen on to begin with were the wood grips, as they are quite bulky and this is already a double-stack gun, but once again I found I got used to them quite quickly.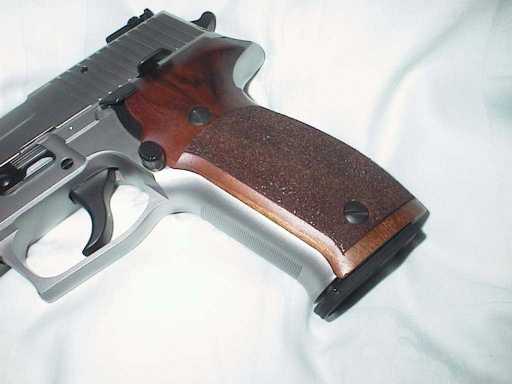 The trigger pull was pretty good.  I know a lot of target shooters will look down their noses at a DA pistol, I have to say I prefer a DA trigger pull on the first shot to flicking off a thumb safety, as I find it faster (although admittedly, usually less accurate).  I think the DA pull on this pistol was about as good as it gets, it was very smooth with a predictable letoff.  SIG-Sauer has actually shortened the mainspring on P220-series pistols to allow for a mainspring housing that is easier to remove than on the older guns, I was therefore impressed that the trigger job was so good as shorter mainsprings usually mean worse trigger pulls.
SIG-Sauer uses a stainless steel frame on this gun, doubtless for longevity rather than weight.  The problem with using a SIG-Sauer for target shooting is that the aluminium frame gives out under heavy use.  One main problem is that the trigger spring walks under heavy use, the constant upward and downward movement "eats" through the frame.  This won't happen with a steel frame.
Being 9mm and only having a 15-round magazine you're unlikely to win any major IPSC matches with it but it's more than sufficient for a club-level event (although you will be in Open class rather than Standard).  It's also an excellent pin gun, although some might find 9mm insufficient.  It's well-balanced (without the weight) and accurate enough for precision, I found I could get two-inch groups with little effort at 25m with Geco 124gr. FMJ, and the gun included a test target shot with Norma that showed a 1.2 inch five-shot group shot at 25m.  I have no doubt with good ammunition that is a representative group.
Obviously the accuracy isn't up to a Hämmerli, but as I said this is a gun for multiple disciplines.  The intended market really is for someone who can't afford to buy two or three expensive target pistols, but can afford to buy one.
On the recoil side of the equation, the gun is made from steel with a heavy duty steel barrel, therefore it's heavy and recoil was slight.
I can't really fault this pistol, I won a competition with it without any practice with it, what more can I say?
If you want one they cost around £850-£950 depending on where you live (of course they're illegal in GB).  Availability is limited outside of Europe (although they've just been introduced to the US market).  For more information about SIG-Sauer and their products, click here.